Have you ever tried a battered Mars bar? Incredible. A heart attack in a tube.
But just to make you either very sick or very hungry, check out these. They're apparently really nice:
Deep fried strawberries
There's also deep fried butter…
…and deep fried beer…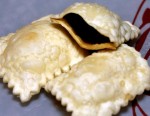 …but the strawberries win it.
Enjoy following the recipe.